The Optimist Club of Stanley Park
---
Santa and Mrs. Claus cruised through the area on Saturday, December 18, 2021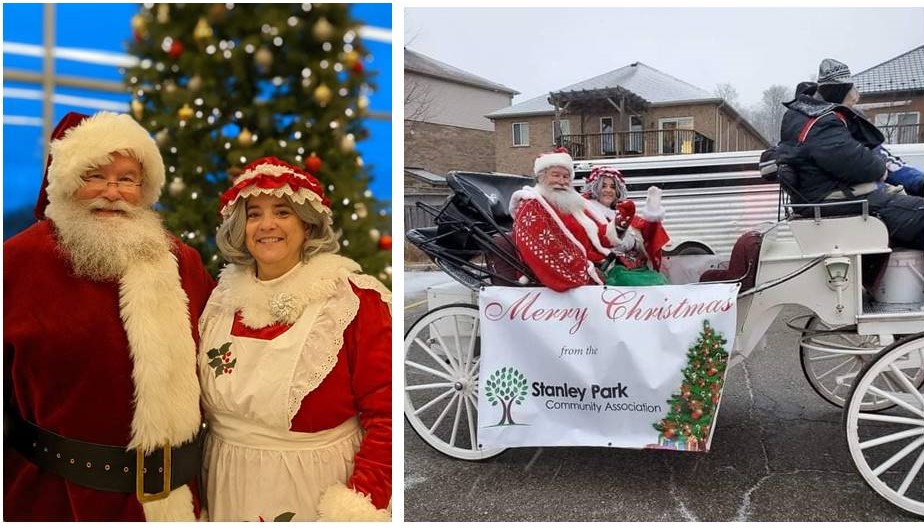 just as the couple did on Saturday, December 19, 2020
Our Optimist Club, in conjunction with the Stanley Park Community Association, was pleased to be able to bring Santa to the Stanley Park area in 2020 and again in 2021. Club President Mark Kerr and Vice-President Carole Kerr filled star roles as "Santa and Mrs. Claus Came to Town". They rode in a horse drawn carriage around the streets of Stanley Park wishing residents a "Merry Christmas". (See photos of the 2020 and 2021 events) Let's all stay course and get things back on track so there'll be a full-fledged parade again! Good news! Plans are in place for Santa's return in December 2022!
CTV News broadcast of Santa's 2020 tour Short Claus dance video 2021
Serving the youth of Stanley Park, Kitchener, Ontario
Welcome to our new Stanley Park website! This website gives us the ability to communicate better with everyone in the organization and all our ball teams and participants. We hope you'll be as excited as we are over this undertaking and use it to keep informed about your team and in contact with your team-mates.
Your contributions - photos, articles, news, etc. - are welcome and solicited. Players and coaches can contribute to their team and player pages. Let's utilize the site's features to keep in touch and record some history.
For information on the current season of our Ball Program (Blastball, T-Ball and 3-Pitch leagues) - and on-line registration access - please Current season - click here.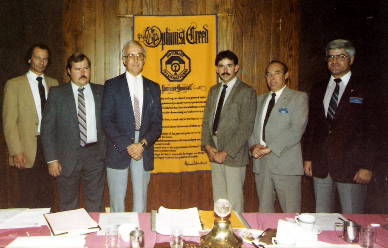 First Club meeting: Distinguished guests (1984)
**********************************************************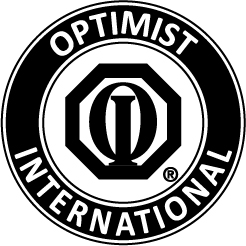 Part of Optimist International, we serve the youth in the community of Stanley Park in the City of Kitchener, Ontario, Canada, and have been doing so since being chartered on November 30, 1984 (The Club was sponsored by the Optimist Club of Kitchener-Waterloo one of several other Optimist Clubs in the City of Kitchener - and there are many more in the Region. Optimism has spread the world over (Optimist International) with the prime objective of working with youth for the betterment of all and the Optimist motto "Friend of Youth".
In addition to the Blastball. T-Ball and 3-Pitch leagues, our Optimist Club runs and/or sponsors numerous other projects. Information on them is available on this Website. If you have photos, articles, etc. you feel would be suitable for this site, please contact us.
Members generally meet twice a month, the 2nd and 4th Tuesday evenings, at various locations. Until 2019, the Club hosted a bingo session every 2nd Sat. night at The K-W Gaming Centre, 501 Krug Street, Kitchener, to raise funds for various projects and charitable donations but cut participation back to once a week (Monday evening) because of decreased membership availability to man the events. (The Ball Program is "self-supporting".)
Each year 500 to 600 children (over 630 in 2016) are able to play ball (Blastball, T-Ball or 3-Pitch depending on their ages), thanks to the efforts of club members and close to two hundred volunteer coaches and assistants. The success of the program is also due, in no small part, to the efforts of the young crew of officials who control the games. For most of these youth, it is their first paid job and certainly leads to their development of responsibility, confidence, and fair play.
Other programs the Club has held/sponsored over the years include: a fishing challenge for the physically challenged, the school fishing program, a bike safety rodeo, Saturday night youth dances, and the Grand River Bass Derby. Note: Due to restrictions on activities in place for the COVID-19 pandemic, and our overriding concern for everyone's health and well-being, the Bass Derby for 2020 was canceled. (People are encouraged to enjoy fishing on their own.)
Local organizations such as Boy Scouts, minor sports teams, charities, and various school groups & projects have also been recipients of on-going financial support. (Other programs) Major commitments have included: the Student Career Counselling Centre at Grand River High School, installing diamonds at the former Notre Dame School and Smithson School, installing outdoor basketball courts at Smithson, Crestview & Canadian Martyrs schools and providing financing for the Stanley Park Natural Area on the Walter Bean Trail. For our 2017 ball season, the Club (in conjunction with the City of Kitchener and the Kitchener Sports Association), installed additional "backstops" in Franklin and Midland Parks for use by our Junior T-Ball league and, in 2019, added a third one at Franklin Park. All of the Junior T-Ball backstops were reconfigured in preparation for our 2020 season (which was canceled due to Covid). They were put to good use by the time we got back to playing ball again in 2022.
Members are proud to be able to assist local children with many different needs each year and, occasionally, extend a helping hand to the greater community as well, as was the case when the Ice Storm hit Quebec and Eastern Ontario.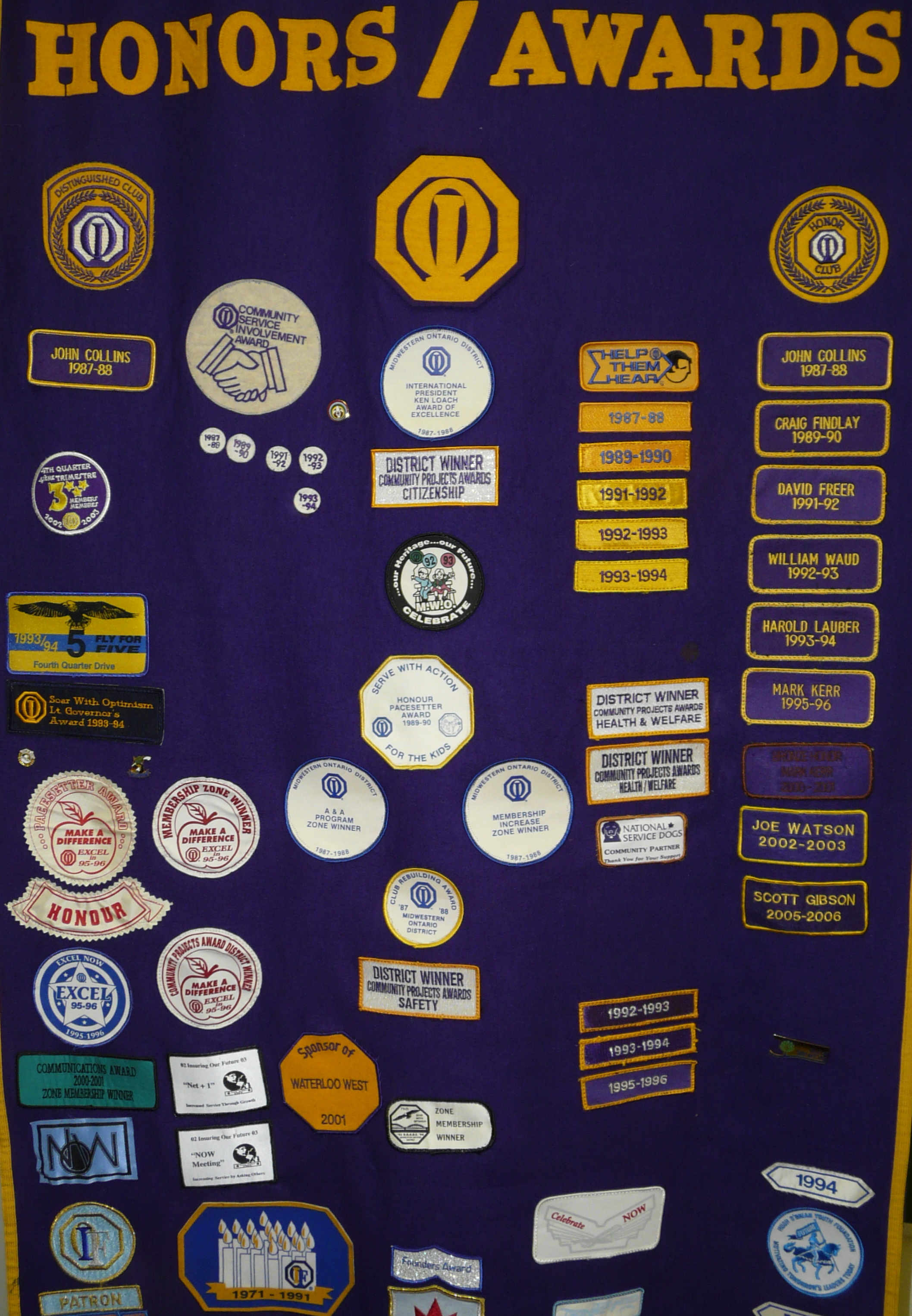 As the patches on the Club banner show, since that time members have been very active in the community.
There have been two special celebrations:
(i)The Club's 10th Anniversary was celebrated on February 22, 1994.
(ii) On October 23rd, 2004 The Club celebrated its 20th year of serving the youth and community of Stanley Park.
On November 11, 2008 Club members overwhelming voted to go co-ed and start accepting female membership applications.
We encourage you to browse through our Website, learn what we do and, maybe, come out and help or even join the Club! We're all-inclusive!
Links: Optimist Canada and Midwestern Ontario Optimist District