Information on our 2023 season
---
WE'RE BUSY PLAYING BALL
PHOTO: Coaching assistance for a Junior T-Ball player.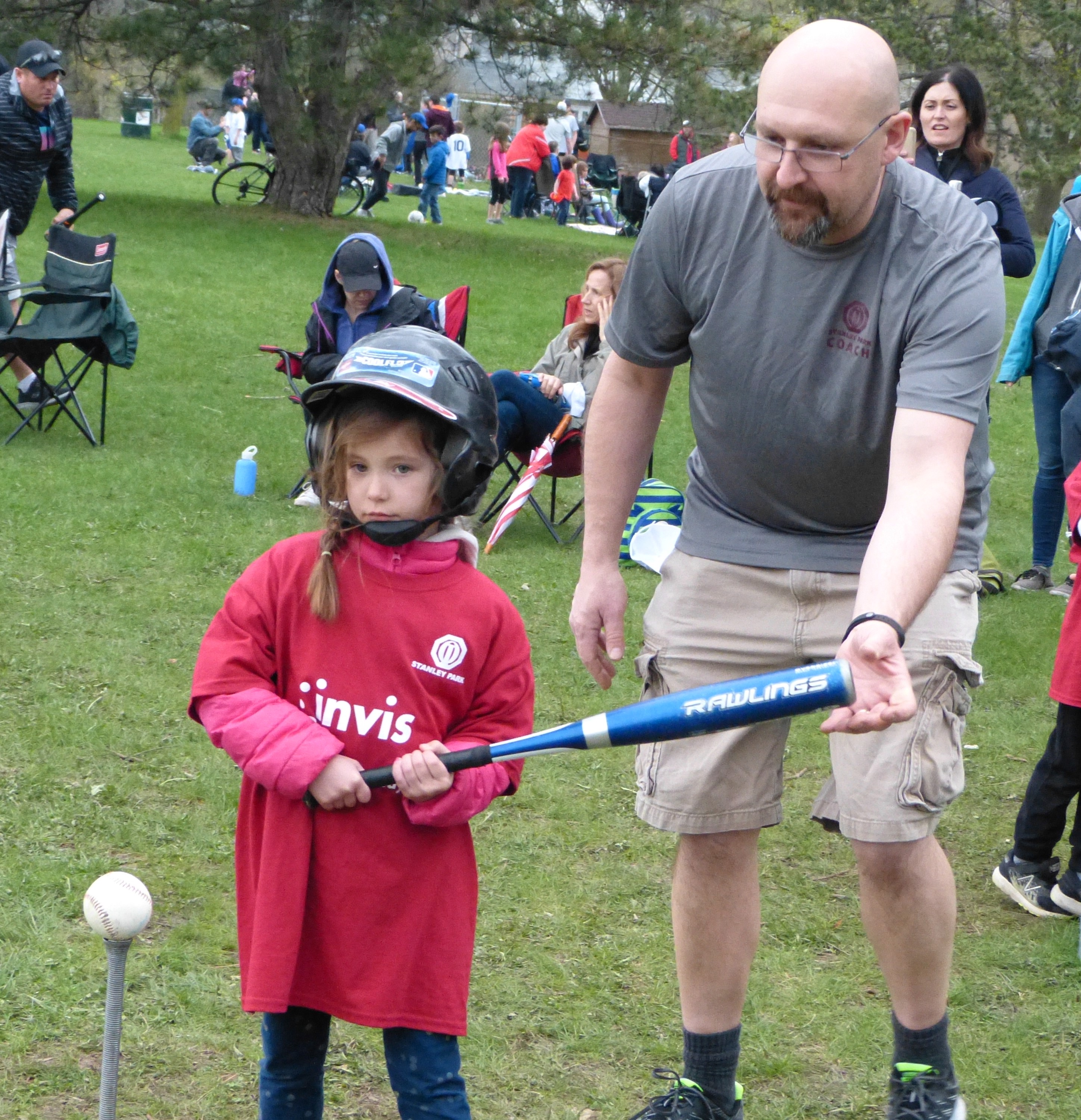 In 2017, in conjunction with the City of Kitchener and a grant from the Kitchener Sports Association, we added two additional play areas (for Junior T-Ball) to the Franklin Park site and one to the Midland Park site. These additions are entirely grass, i.e. no dirt infields, and helped us facilitate scheduling for families with multiple players in our program's various leagues. They also let us focus on keeping our games in the Stanley Park area of Kitchener. For the 2019 season, again with funding from KSA, we added an additional play area at Franklin Park for our Junior T-Ball league.
We require you to be involved with your child's team in some capacity - player, coach, sideline helper, sportsmanship manager, health & safety coordinator, scorekeeper --- whatever your team needs to function well! All of our leagues are co-ed (all-inclusive) with basic breakdown for the 2023 season as follows:
Blastball for those born in 2018, 2019 and early* 2020

Junior T-Ball for 2016, 2017 and 2018
Senior T-Ball for the 2014, 2015 and 2016
Junior 3 Pitch for the 2012, 2013 and 2014
Senior 3-Pitch for those born in 2009, 2010, 2011 and 2012

* Early means before June 1st, 2020.
Note: The above fee includes the late charge applicable to all registrations processed after March 27 and roster spots are subject to availability.
Health & Safety Considerations for 2023
Registration for 2023 is closed. You missed us and we'll miss you.
We encourage you go over the information on this website and then register online using the link on our website's homepage. If you don't wish to pay online, you can mail or drop off payment (cheques should be made payable to "The Optimist Club of Stanley Park). You must enclose the payment, along with a note explaining which participants the payment covers, in a sealed envelope addressed as follows: c/o The Stanley Park Community Centre, 505 Franklin St. N., Kitchener, Ont. N2A 4K7
The registration process is not complete until suitable financial arrangements, including requests for consideration for a fee subsidy or financial assistance, have been completed.
General Information: Dates of play for 2023 are May 1* - June 27. * Please be aware that the fields/diamonds will undoubtedly not be in pristine condition early in the season as the City's grounds crews will still be working on the initial grooming. Let's be happy to play while they continue with their preparations for us. Regardless, all games are subject to weather and field conditions and are governed by permits issued by the City of Kitchener. We plan to play as many games as possible at Franklin and Midland Park --- only venturing elsewhere (usually to Smithson School) if absolutely necessary. As in recent years, there will be no gala "organization" wrap-up season-ending celebration offered for our 2023 season; each team's final game will be scheduled as per its player availability preferences and players will receive their photos, trophies/medallions, cards, etc., at their team's final game in June.
IN EFFECT FOR 2023: Participants may select up to TWO days they cannot play (IF necessary) and we'll do our best to avoid scheduling games on those two days. Game days will vary from week to week among the available slots, i.e. we do not play specific days each week. Each team generally has two games scheduled each week; weekday & Sunday games are 6:30 pm starts, Saturday games start at 9:00 am. Once we get to any end-of-season "playoff" games for the Senior T-Ball and 3-Pitch teams, our capability of honouring multiple playing-day restrictions is more constrained but we'll do our best to comply on a "best-fit" scheduling basis. We cannot promise anything beyond that except for Coaches & Assistant Coaches --- of ALL leagues ---who may, if needed, request a 3rd playing day restriction. Refer to the information on preferences and requests
Professional photos for our 2023 season will likely be scheduled to be taken during the first two weeks of May (as arranged with individual teams). Individual shots can be submitted, for those who miss their team's photo appointment, during the following week of the season. (More information on the photo offerings)
Our fee includes: T-shirt, baseball cap, composite photo, trophy/medallion and a web page for each team. It also covers equipment, park rentals, supplies and umpires (Senior T-Ball and both 3-Pitch leagues). Players have to supply their own baseball glove (gloves aren't needed for Blastball) - we do have loaner gloves for T-Ball and 3-Pitch players who have a need for one. Note that, although batting helmets are available on a shared basis, players may wish to have their own. All players in our Senior T-Ball and both our Jr. & Sr. 3-Pitch leagues are required to wear face protection when playing an infield position For 2023, we will be providing actual fielders' masks as an alternative to the helmets c/w face shield that we provided last year. Participation is at player's own risk so parents are advised to carry insurance which covers such participation and ensure their child is dressed appropriately, i.e. suitable shoes, leg covering, etc.
We strongly recommend long pants and no jewellery. Players cannot participate wearing sandals or flip-flops. There could very well still be mandated regulations in place due to the on-going pandemic situation.
*** If you don't have a helmet for you child (as noted, we do supply each team with loaners), and would like your child to have his/her own, please visit Sportco (Ken or Kevin if available) and they'll get your child fitted and ready to play. Sportco is also our supplier of bats, balls, gloves = everything for ball players! Sportco: 880 King St East., Kitchener
Effective since 2015: Defensive players, when playing infield positions, must wear facial protection. (Each team is being supplied with the necessary safety equipment.) This is mandatory for Senior T-Ball, Junior 3-Pitch and Senior 3-Pitch but remains optional for our Junior T-Ball league.
We allow players with other commitments to "arrive late" or "leave early" without penalty. (It's a really good idea to let the coaches know ahead of time about this.)
We expect a parent/guardian to not only attend, but also help at games & practices. Everyone is required to "pitch in" as needed to the extent they can with the coaching, managing = helping in whatever way possible. In 2023 we hope that teams will be able to get back to having a post-game celebration and enjoy some treats while socializing. We will be encouraging each team to have a "Safety Coordinator" to ensure all safety guidelines and protocols are followed at ALL team events. There could be mandated sanitization requirements that each team, (and each player, coach, official and spectator), must comply with. At this time, proof of vaccination is not expected to be required for attendance/participation however, what we've learned through 2020 - 2022 is that conditions (and health mandates) change quickly. We plan to offer everyone the opportunity to play safe ... and stay safe while enjoying the experience.
In-person Information/registration sessions for 2024
will be announced sometime in the fall.
When open, you can register online anytime - 24/7 - and sooner is better! We hope you'll join us next year and play ball! Refer to playing day preferences and special requests.
Refund Policy: There is a $15 processing fee on all requests for refunds up to April 17, 2023, for our 2023 season. Sorry, but - unless our season gets canceled, we do not issue any refunds for requests received on (or after) April 18. Any refunded amounts have to be processed to the same person and in the same manner as the initial payment was made. Note: There will be no refunds to anyone affected by an exclusion from participation for non-compliance with any mandated health/safety regulation.
Still have questions? Email us: ball@stanleyparkoptimist.com