GLOVES: Getting one that's suitable
---
Getting the properly sized glove is important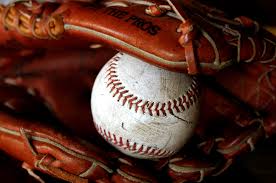 Gloves are not supplied by the league so it is advisable, though not for Blastball, for each player to have his/her own glove. (Having the player's name and phone number written in glove is a really good idea!)
As our players are in various stages of growth and are apt to outgrow things fairly quickly, it is also a good idea to try and use hand-me-downs, borrow one, find a "used" glove or find for a "sale". Just watch that you get a glove for your player's natural fielding hand - i.e. left or right. Trying to force a change because of a glove's availability is a big mistake. Note also that our level of play is recreational, and players play all fielding positions, so there is no need to try and spend a lot of money on a specialized glove nor one which may be outgrown by next season or not used again if your child wants to try something different.
We use a regulation sized hardball (but with a soft-core) for T-Ball and an 11" fastball for 3Pitch. Be prudent and use the information here to guide you.
Webbing: Every baseball and softball glove has either an open web or a closed web. The style you choose will depend on your fielding position as well as your personal preference. A closed web is standard on all catcher's mitts and often used by pitchers to hide the ball from the batter. A closed web is also used if the player prefers more support when catching. An open web helps players, especially middle infielders, get the ball out of the pocket quicker to make throws to bases. For use in our leagues we recommend an open web glove.
Pocket Depth: Shallow pockets are ideal for positions that require fielders to quickly grab the ball and throw it to base after making a catch. Deeper pockets are designed to help players hold onto fly balls. Softball players also need a deeper pocket to catch the bigger softball.
Backs: The choice of an open or closed back is mostly a personal preference as well. An open back has a space above the wrist adjustment on the glove whereas a closed back does not. Many infielders use an open backed glove because it gives them more flexibility. On the contrary, outfielders typically use a closed back with a finger hole for extra support.
Youth Baseball Gloves/Softball Gloves are made smaller to cater to the smaller hand of youth players and give them more control. The following size chart will give you a general idea of what size glove fits each age group and position

.
| | | |
| --- | --- | --- |
| Age | Position | Glove Size |
| | | 10 to 10 1/2 (youth model) |
| | | 10 1/2 to 11 (youth model) |
| | | 11 to 11 1/2 (youth model) |
| | | |
| | | |
| | | |
Catchers Mitts - Baseball and softball gloves made for catchers are fingerless gloves (often called mitts) with heavy padding to provide more hand protection. These baseball gloves are built to withstand heavy use throughout the game and reduce the sting that occurs from repetitively catching fast balls from pitchers. The webbing on catcher's mitts is closed and they feature a smaller pocket, making it easier to get the baseball out of the pocket. Softball catcher's mitts have a larger pocket with less padding than a baseball catcher's mitt due to the larger ball size and slower pitching speeds. Catcher's mitts are not used by any other position on the baseball field and are measured by circumference rather than length. Youth catcher's gloves are typically 31 inches or less and adult catcher's gloves are usually 32 inches or larger.
First Base Gloves - First base softball and baseball gloves resemble a catcher's mitt because they are also fingerless but have less padding than a catcher's mitt. Adult first base gloves typically run from 12-12.5 inches in length for the game of baseball and have a shallow pocket so the first baseman can quickly retrieve the ball from the glove. For the game of softball, most players use a 13-14 inch length glove. First base gloves also feature a open webbing style so players can trap the ball a little better than with a closed web glove.
Pitcher's Gloves - Most pitchers want a glove with a closed webbing so they can hide the ball as they adjust their grip before throwing the next pitch. As for the size and rest of the glove features, it is up to personal preference.
Infield Gloves - Infielder's gloves are generally smaller (10.5-12 inches in length) and shallower than outfielder's gloves so players can retrieve and throw the ball to base more quickly. Many also prefer an open webbing style for the same reason. Third basemen will sometimes choose a closed web if they want extra support since balls are often hit harder and faster to the third base line. Infield gloves for softball players have a deeper pocket for catching the larger ball.
Outfield Gloves - Outfielder's gloves are larger and longer (12 inches or more for adults) to give players the greatest possible advantage when catching fly balls. These baseball gloves also features a deeper pocket and usually have a closed web to trap the ball in the glove.
Note: As we use "mandatory rotation" in our leagues, all players get to play each inning of each game at different positions.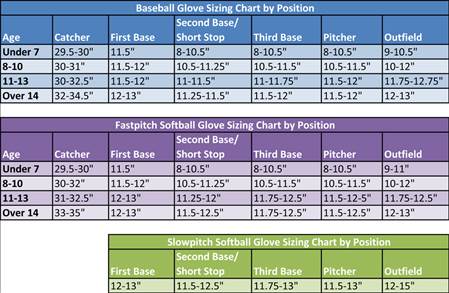 Care of your glove
Break in your glove: There are as many myths and methods to breaking in a baseball glove as there are players in Major League Baseball. Some pretty bizarre substances and practices have been endorsed over the years — from rubbing in shaving cream to running over the glove with a car — to soften the mitt and suit it to your hand. But when it comes down to it, there are a few proven methods that can get your glove in game condition. Check out available glove oils and treatments to help care for your new glove.
Soften the leather: To conform your glove to your hand and your game, the first step is to soften the leather. Any number of creams, oils and foams will do the job, but no matter what you choose to soften your mitt with, remember that less is more and that too much oil or foam will not get you closer to your goal. In fact, it will probably damage your glove so remove the excess product after you have applied it, and don't over-moisten the leather.
Mold the pocket You want a nice, round, roomy pocket for your glove when you're fielding grounders or snatching those line-drive bullets out of the air. The tried-and-true method for achieving this is to place a ball firmly where you want your pocket to be and then close your glove securely around the ball by tying a shoestring around it or using a large rubber band. Because time is needed to get the pocket started, let the glove sit for a day or two while the shape starts to form.
Of course the best way to create your pocket and match your glove to your hand is to use the glove. Before you take it out to the game, grab a buddy and catch some balls. This, more than anything else, will help you form the glove to your hand. A good glove should last many years, so patience and dedication should be used when breaking it in. And...put your name in it!